If you are looking for things to do in Marrakech or beyond, we can arrange day trips, tours and excursions. Here are some of our more popular options.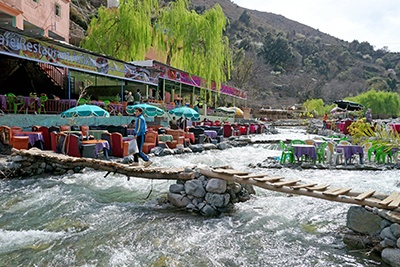 Ourika Valley
The Ourika Valley in the High Atlas mountains is only an hour's drive from Marrakech. Our driver will suggest viewing points and stops along the way, including tea in a Berber village house. When you arrive at the village of Setti Fatma you can have lunch at the side of the river before an optional walk up to the waterfalls. Sturdy footwear is recommended.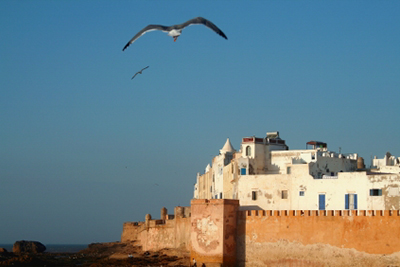 Essaouira
Essaouira is a picturesque fishing town three hours drive from Marrakech on the Atlantic coastline. It has a small and easily navigable medina, a busy harbour and a fish market where you can buy fresh fish for lunch. You will have plenty of time to walk round the ramparts with their ancient cannons, visit the colourful souks or take a walk along the beach before returning to Marrakech.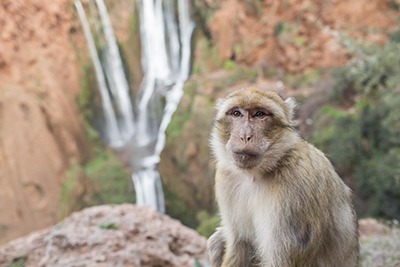 Ouzoud Waterfalls
The spectacular three-tier Ouzoud waterfalls are the highest in North Africa. This is where you can see the famous Barbary apes roaming free in the wild. Steps will take you to the bottom of the falls where you can take a boat trip before climbing back up, stopping for lunch along the way.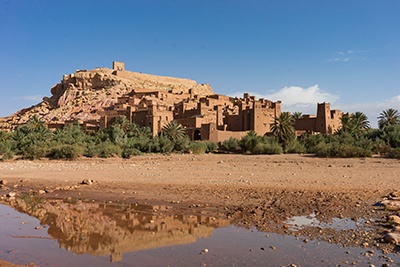 Ait Benhaddou
Ait Benhaddou Kasbah is a world heritage site that has been the backdrop to many films including Gladiator and Lawrence of Arabia. You will climb to the top of the Kasbah before continuing on to Ouarzazate (the Hollywood of Morocco) for lunch. The Museum of Cinema at Ouarzazate is worth a visit before the drive back to Marrakech.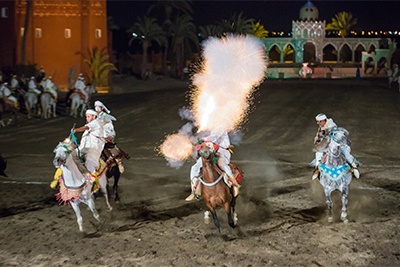 Fantasia
An evening of entertainment at Chez Ali, on the outskirts of Marrakech. The price includes return transport and a traditional Moroccan dinner as well as entertainment from musicians and dancers, rounded off by the charge of the Fantasia horsemen and a flying carpet.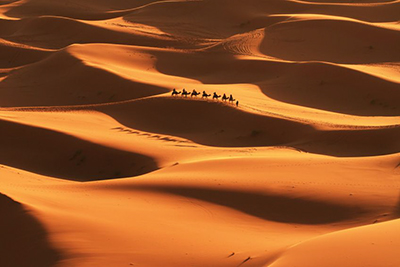 Desert Tours
We can also organise trips to the desert, of between one and 3 nights. Includes camel ride at sunset, overnight stay in the desert camp, and visits to Ouarzazate, Ait Benhaddou, Todra and Dadès Gorges. (The exact itinerary will depend on the number of days.)